Are You in Need of Trenchless Solutions for Your Water or Sewer Lines?
When the idea of trenchless plumbing solutions began gaining popularity in the plumbing industry, many were relieved by the fact that they did not have to seek public authority approval anymore. While it was previously agreed that mainline water and sewer were the property of local authorities, trenchless technology rides on the back of some basic plumbing codes. When there is a need to repair or replace sewer or water lines today, all it takes is the adoption of cured-in-place pipe (CIPP), a rehabilitation method that best applies to gravity sewer. This technology, which has been around for the last 40 years, has been successful in the rehabilitation, reconstruction and repair of pipes made from cast iron.
How Is This Possible?
Without emphasizing on piping to be strong enough to withstand the stresses of underground function, CIPP capitalizes on the presence of the original piping layout and uses the pipes as mold. This means that pipe replacements are not ready-made but rather made in the field on an as needed basis. The result is a brand new pipe that bears all the desirable mechanical properties of a service pipe – with at least 50 years of service life guaranteed. All this is courtesy of trenchless solutions that offer value without the need to remove or excavate the old pipe.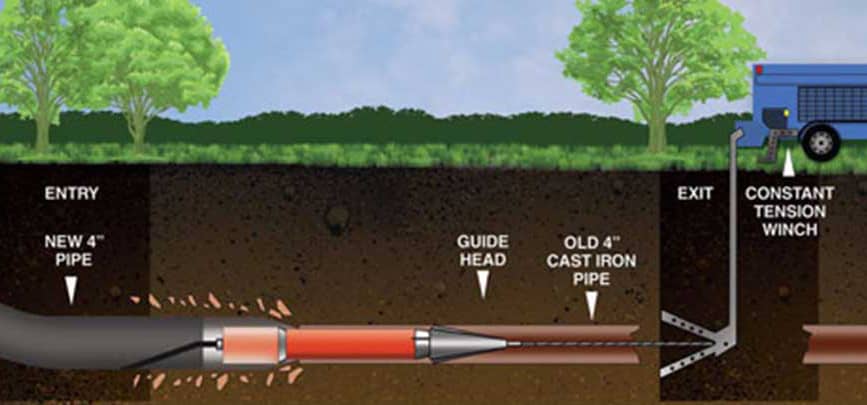 With quite a large network of sewer and water main lines, it would be unimaginable to consider the replacement, removal or repair of original piping by trench digging. Shallow earth excavation is not only less disruptive but it offers a safe avenue for rehabilitation of public utility resources. The significantly little time needed for CIPP over traditional methodology is a game-changer as far as business interruption is concerned. It is no longer necessary for companies to close off operations just so that sewer or main line pipe damages can be addressed.
Whether you have an actual repair job you want done or are just curious as to how the technology works, call us today. We take pride in being a provider of trenchless solutions for home and commercial properties.
Want to learn about our financing options? 201-212-6820
OUR CURRENT HVAC PROMOTIONS
Take advantage of these great offers
Up to $1000 Cash Rebate + 2-year Free Maintenance Package*
*Only on complete system installations. Call for more details.
0% APR Financing up to 72 Months On New Installations*
*Upon credit approval. Call for more details.
$400 Off New A/C Installation*
*Conditions apply. Call for more details.
Connect with a Specialist